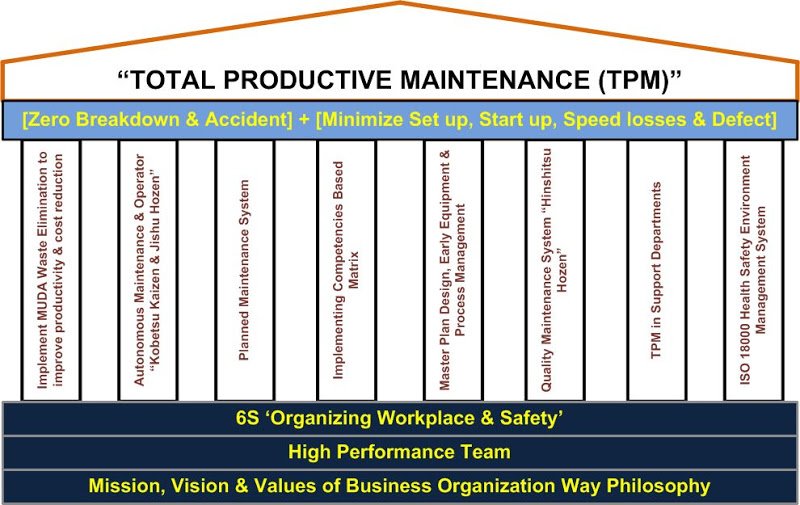 8 Pilar Total Productive Maintenance
"Target pencapaian TPM adalah Zero Accident, Zero Breakdown, Zero Cronic damage, Zero Defect and Lean operation (Minimized Set up, Start-up, Shut-down, speed looses and change over). Banyak yang mempertanyakan target ini, namun akan menjadi sebuah kemungkinan bila Anda melihat bahwa hal ini celah bagi kesempurnaan yang terus dikerjakan dalam kegiatan Kaizen & continues improvement."
8 Pilar Total Productive Maintenance:
1. FOCUS IMPROVEMENT:
a. Mengukur pemborosan di Tempat kerja
b. Implement MUDA Waste Elimination to improve productivity & cost reduction
c. Meningkatkan efektifitas kerja dengan menerapkan 6S (Sort, Set in Order, Shine, Safety, Standardize & Sustain)
2. Autonomous Maintenance & Operator (= "Kobetsu Kaizen & Jishu Hozen")
a. Reset based level, yaitu mengimplementasikan kegiatan maintenance harian oleh Operator pada aktivitas pembersihan, inspeksi mesin, pelumasan mesin dan pengencangan sambungan (baut, klem..)
b. Menerapkan Autonomous Maintenance & Operator di setiap working station.
3. Planned Maintenance System
a. Menjamin mesin 100% siap untuk digunakan (reduce downtime & 100% readiness)
b. Menjamin mesin 100% mendukung pencapaian mutu yang konsisten, jumlah produk yang sesuai dan ketepatan waktu bagi jawal pengiriman ke pelanggan
c. Mengimplementasikan Preventive Maintenance Schedule bagi kemudahan pelaksanaan perawatan dan tindakan pecegahan
d. Reduce maintenance & variable cost
4. Training & Skill Development dalam mengimplementasikan Competencies Based Matrix
a. Gaps Skill & Training Analysis
b. Conduct training & awareness
c. Verifikasi efektivitas terhadap kepatuhan penerapan
d. People and Skill Matrix
5. Master Plan Design, Early Equipment & Process Management
a. Periksa spesifikasi alat dan data teknis
b. Pelajari kelemahan dan kekurangan sebagai langkah perbaikan [Life cycle costing]
c. Penerapan perbaikan design pada mesin terpasang dan kemungkinan investasi mendatang pada: Kemudahan dalam pembuatan mesin/alat kerja, Kemudahan instalasi, Kemudahan proses, Kemudahan dalam pengendalian proses dan mutu produk dan Jaminan hasil produksi yang bermutu konsisten
6. Quality Maintenance System "Hinshitsu Hozen"
a. Melakukan evaluasi dan perbaikan terhadap kerusakan atas mutu dan control performa mesin
b. Focus pada kegiatan Quality Source and Quality Assurance
c. Penerapan Sistem Preventive Maintenance yang efektif dalam ketepatan waktu dan biaya
d. Mengimplementasikan pedeteksi kesalahan dini [Poka Yoke, Mistake Proofing]
7. TPM in Support Departments (Office, Sales, Marketing, Finance/Accounting, IT and Administration)
a. Seluruh department yang mendukung proses produksi, penyerahan produk dan pelayanan pelanggan berpartisipasi aktif dalam kegiatan TPM untuk meningkatkan efektifitas kinerja binis
b. Meningkatkan kecepatan, efektifitas dan kesederhanaan sehingga bisnis proses menjadi lebih ringkas dan tanggap terhadap kebutuhan pelanggan dan meningkatkan daya saing perusahaan
8. Health Safety Environment Management System
a. Operasi bisnis yang berbasis kuat pada dukungan kegiatan Keselamatan kerja dan lingkungan
b. Pelatihan dan implementasi pada seluruh aspek bisnis proses untuk mencapai Zero Accident and Zero Pollution
c. Tunduk dan mematuhi secara terhadap peraturan Pemerintah dan persyaratan Pelanggan untuk mengimplementasikan kebijakan HSE.
Sumber: bestmanufacturing.blogspot.com