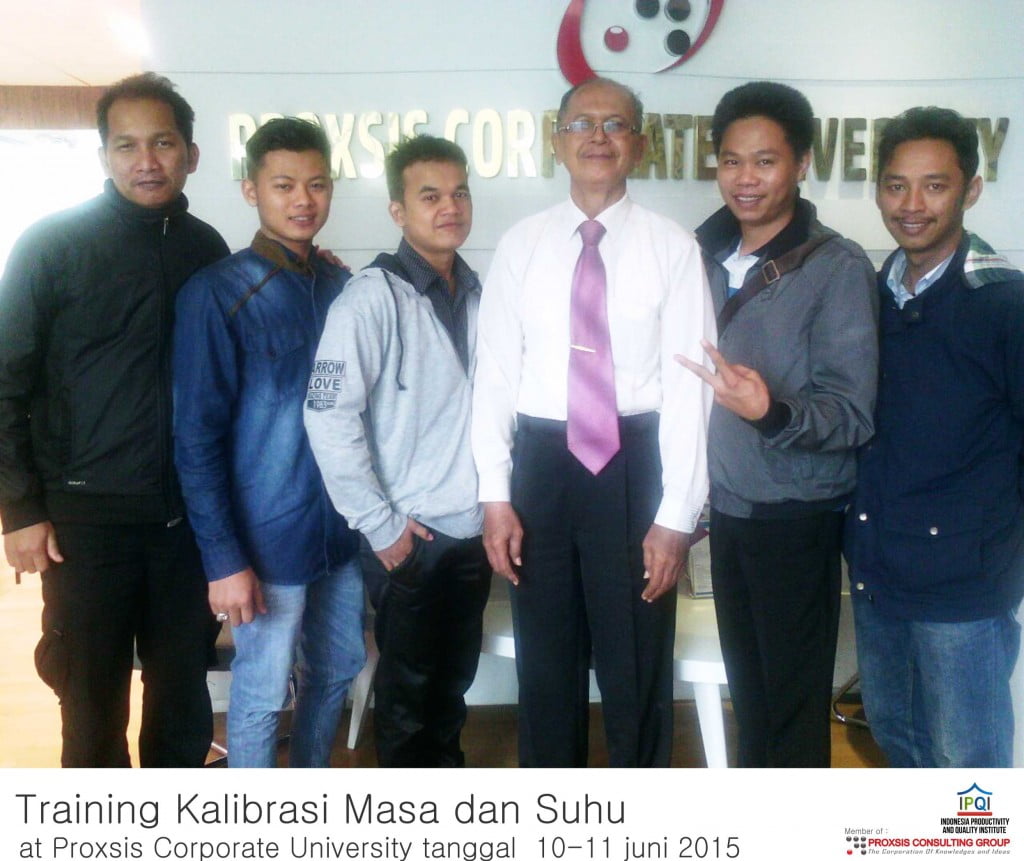 Training Kalibrasi Masa dan Suhu at PCU,10-11 Juni 2015
Pengertian kalibrasi menurut ISO/IEC Guide 17025:2005 dan Vocabulary of International Metrology (VIM) adalah serangkaian kegiatan yang membentuk hubungan antara nilai yang ditunjukkan oleh instrumen ukur atau sistem pengukuran, atau nilai yang diwakili oleh bahan ukur, dengan nilai-nilai yang sudah diketahui yang berkaitan dari besaran yang diukur dalam kondisi tertentu. Dengan kata lain, kalibrasi adalah kegiatan untuk menentukan kebenaran konvensional nilai penunjukkan alat ukur dan bahan ukur dengan cara membandingkan terhadap standar ukur yang mamputelusur (traceable) ke standar nasional untuk satuan ukuran dan/atau internasional.
Tujuan kalibrasi adalah untuk mencapai ketertelusuran pengukuran. Hasil pengukuran dapat dikaitkan/ditelusur sampai ke standar yang lebih tinggi/teliti (standar primer nasional dan / internasional), melalui rangkaian perbandingan yang tak terputus.
Indonesia Productivity Quality Institute member Of Proxsis Corporate University telah mengadakan Training Masa dan Suhu,pada tanggal 10-11 Juni 2015, dengan peserta yaitu : Bpk. HELMI SYAIFUL RAHMAN , RINDU TUA SIMANJUNTAK (PT.UNIBIS), Bpk.  ARIF ABU HASAN LUBIS, ERICKSON SIMANJUNTAK,JONI (PT.MUSIM MAS FUJI)  Trainer disampaikan oleh Bpk Bimbing  Tenaga Ahli dari kalangan industri yang telah berpengalaman dalam memberikan pelatihan-pelatihan.