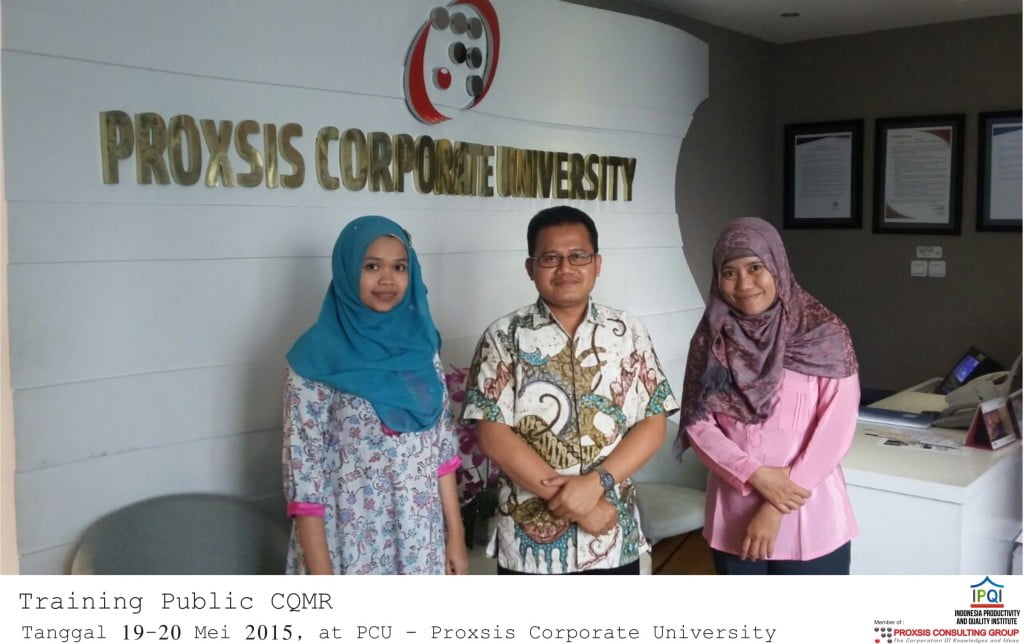 Training CQMR Tgl 19-20 Mei 2015, at PCU
Management Representative adalah orang yang bertanggung jawab terhadap jalannya sistem manajemen mutu ISO 9001 : 2008. Disarankan Management Representative di jabat oleh Direktur atau General Manager. Tugas Management Representative antara lain adalah menjamin sistem manajemen mutu ISO 9001 yang telah ditetapkan, melaporkan kinerja sistem manajemen mutu ISO 9001 : 2008 dan perbaikan yang diperlukan kepada direktur, bertanggung jawab atas koordinasi dengan pihak-pihak luar perusahaan yang berkaitan dengan sistem manajemen mutu.
Indonesia Productivity and Quality Institute member Of Proxsis Corporate University telah mengadakan Training Certified Quality Management Representative dengan peserta Eka Marliyana dan Dwi Febty Anggraeni dari PT Domus Jaya  pada tanggal 19 – 20 Mei 2015 berlokasi di Proxsis Corporate University dengan Trainer Rosyidin consultation for: ISO 9001, HACCP, GMP, ISO 22000 Food Safety Management System, ISO 14001, OHSAS 18001 with development : manual, procedure, objective, work instruction, recording, planning (Quality, Health, Safety & Environment).