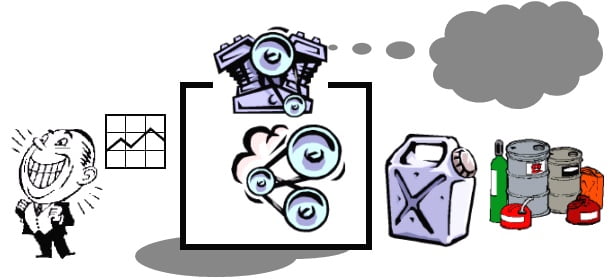 Training Total Productive Maintenance (TPM)
Latar Belakang Training Total Productive Maintenance (TPM)
Beberapa masalah umum yang terjadi pada mesin misalnya mesin yang kotor, peralatan yang terbengkalai, mur dan baut hilang, oli yang belum diganti, kebocoran pada mesin, bunyi-bunyi yang tidak normal, getaran mesin yang berlebihan, filter yang belum diganti, dan lain-lain. Total Productive Maintenance berprinsip bahwa hal ini disebabkan oleh kurangnya keterlibatan total dari operator produksi dalam perawatan mesin dan cenderung menyerahkan perawatan mesin ke pihak maintenance. Hal tersebut terjadi karena kurangnya standard perawatan mesin, kurangnya pelatihan kepada operator, kurang terampilnya operator dalam menjalankan perawatan, dan juga lingkungan kerja yang kurang memadai.
Total Productive Maintenance didefinisikan sebagai konsep perbaikan berkelanjutan yang melibatkan seluruh karyawan untuk meningkatkan perawatan mesin, peralatan, dan meningkatkan produktivitas. Indikator kesuksesan TPM di ukur oleh OEE (Overall Equipment Effectiveness) dimana ukuran kinerja ini mencakup ke berbagai macam
kerugian (losses) seperti downtime, changeover, speed loss, idle mesin, stoppages, startup, defect, dan rework. Pilar utamanya yaitu Autonomous Maintenance (Jishu Hozen), Planned Maintenance, Focused Improvement (Kobetsu), Quality Maintenance, Initial Control, Training, dan Total Productive Maintenance – Office.
Objective Training Total Productive Maintenance (TPM)
1. Memahami konsep TPM
2. Dapat membentuk team TPM
3. Menerapkan proses TPM di internal perusahaan
4. Mampu melakukan pengendalian dan monitoring terhadap aktifitas maintenance.
5. Mampu mengevaluasi proses maintenance di perusahaan.
Principles of Discussion
The First Day
• From PM to TPM
• TPM Foundation
• 6 Big Loses
• Five Pillars of TPM
• 6S implementation
• Visual Display
The Second Day
• TPM Measurement
• Basic Equipment Care
• TPM Champion Team
• KAIZEN activities
• 5 why – Root cause analysis
• TPM Program
Who should enter
Manajer, Supervisor, dan staff produksi dan maintenance.
Training methods
Pelatihan ini membutuhkan interaksi yang cukup tinggi agar setiap materi dapat langsung menjadi bahan diskusi.
1. Dialog Interaktif / Sharing
2. Diskusi Grup
3. Latihan di Kelas
4. Studi Kasus
Lokasi Training
IPQI Training Center
Permata Kuningan bld 17th floor, Jl. Kuningan Mulia Kav. 9
HR. Rasuna Said, Jakarta Selatan – Indonesia
Untuk informasi lebih detail hubungi kami di
Jakarta
Yolanda
WhatsApp : 0813 1980 2545
Email : [email protected]
Surabaya
Dwi Aliyah
WhatsApp : 0822 4414 7658
Email : [email protected]
Atau silahkan isi form Inquiry & Information dengan mengklik tombol dibawah ini.
[ARForms_popup id=100 desc='Inquiry & Information' type='button' height='400′ width='550′]