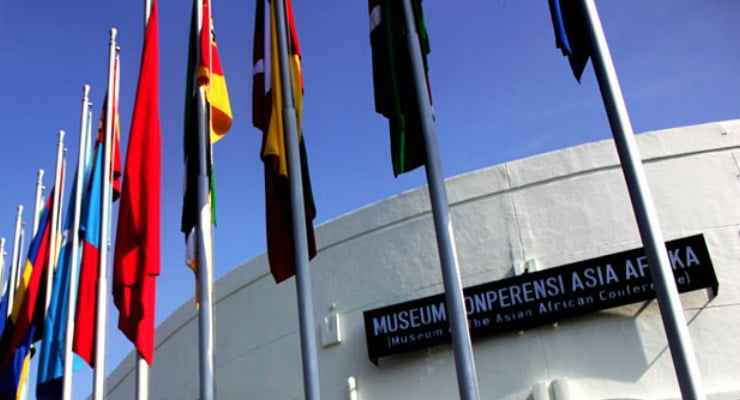 KAA : Menguatkan Sinergi Antara Negara-Negara Kepulauan
Program Small Islands Developing States (SIDS) menjadi bagian dari rangkaian kegiatan Side Event Peringatan Konferensi Asia Afrika. Program SIDS akan dilangsungkan pada Selasa, (21/4) di JCC, Senayan Jakarta.
Menteri Pariwisata Arief Yahya mengatakan kegiatan ini menjadi strategis dalam upaya membangun jembatan kerjasama, dan sinergi sesama negeri kepulauan.
"Koneksi mutualisme beberapa negara di Asia Afrika sangat strategis karena rata-rata menempatkan sektor marine tourism sebagai salah satu pengungkit roda perekonomian nasional," ujarnya dalam siaran pers yang diterima Bisnis, Minggu (19/4/2015).
Negara SIDS yang akan ikut meramaikan Peringatan KAA ke-60 itu terdiri dari 57 negara. Dari jumlah itu, 38 negara diantaranya adalah anggota PBB, dan sisanya 19 negara anggota non PBB. SIDS berada dibawah UN Office of the High Representative for the Least Developed Countries, Landlocked Developing Countries and Small Island Developing Countries.
Negara anggota SIDS antara lain, Bahamas, Cuba, Fiji, Jamaica, Maldives, Mauritius, Palau, PNG, Singapura, Suriname, Timor Leste, Vanuatu, Haiti, Dominica, Nauru, New Caledonia, Niue, Palau, Northern Mariana Islands, Guam, Kiribati, Marshall, Belize, British Virgin Islands, Aruba, Comoros, Seychelles, Bahrein, Cape Verde, Cook Islands, American Samoa, Anguilla, Antigua and Barbuda, dan lainnya.
Menurutnya, sebagian besar wisatawan yang mencari objek bahari menjatuhkan pilihannya ke Maldives (Atlantik), Malta, Palma de Majorca (Mediterania), Saint Kitts dan Nevis (Karibia), Hawai (Pasifik), dan negara kepulauan kecil lainnya. Untuk memasukkan nama Indonesia dalam listing destinasi wisata mereka, dibutuhkan brand dan magnet yang kuat.
"Kita semua tahu, potensi dan sumber daya alam berupa keindahan pantai, pasir, matahari, langit dan bawah laut kita itu sangat hebat. Terhebat di dunia. Selanjutnya, bagaimana agar orang yang berada di nun jauh di sana tahu, tertarik, dan merencanakan untuk berwisata ke Indonesia. Semua channel yang efektif menginfokan dengan cepat terhadap mereka harus segera dicari," katanya.
Bagi Indonesia, pertemuan itu penting dalam rangka menggalang dukungan SIDS terhadap upaya Indonesia memasukkan sektor kemaritiman ke dalam Goal 14, dari dokumen Post-2015 Development Agenda yang saat ini sedang dibahas di PBB. Indonesia sebagai negara kepulauan terbesar, dengan 17 ribu pulau lebih itu harus menjadi pemimpin dalam isu-isu kemaritiman dunia.
sumber : industri.bisnis.com